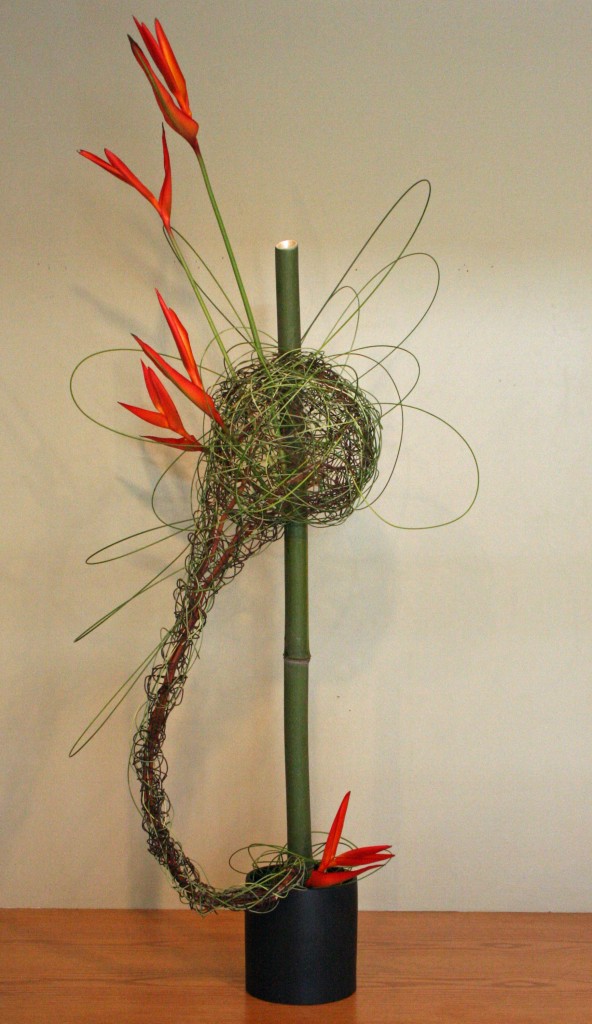 The annual spring exhibition presented by Washington, D.C. Chapter 1 of Ikebana International begins on Friday, April 3rd at the United States National Arboretum. Today was installation day for the first week of the exhibition. My arrangement with the Sogetsu School of Ikebana is shown above. It features intertwining materials emphasizing line and space. The intertwined materials are wire and flexi grass, the flowers are orange pencil heliconia, and single piece of bamboo. There are lots of great arrangements to see and I highly recommend a leisurely walk through Fern Valley after viewing the exhibition. Here is some information about the exhibition:
Exhibit: Ikebana International
April 3 – April 12, 10:00 am – 4:00 pm (Fridays – Mondays only)
National Bonsai & Penjing Museum
Enjoy spring flowers with a Japanese twist! Ikebana is the Japanese art of flower arrangement, a disciplined art form steeped in the philosophy of developing closeness with nature. Washington D.C. Chapter No. 1 of Ikebana International will exhibit flower arrangements representing a variety of ikebana schools, from traditional to contemporary. The installation will change two times during the exhibit, so plan return visits to see them all. See "Demonstrations" below. Free.
Demonstrations: Ikebana International
April 4, 5, 11, & 12; 1:00 – 3:00 pm
National Bonsai & Penjing Museum
Watch master teachers from the Washington D.C. Chapter No. 1 of Ikebana International create works of art from flowers and other natural materials. Each date features a different school; see below. See Exhibit above, Ikebana International. Free.
Saturday, April 4: Ohara school
Sunday, April 5: Ikenobo school
Saturday, April 11: Sogetsu school
Sunday, April 12: Ichiyo school